Summer's almost here, meaning it's time for the long-dreaded tradition of breaking out the old lawn mower. If the frustration is too much to bear, or your mower is just plain worn down, here are some tips for buying a new one.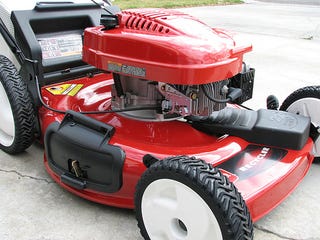 A lot of you have probably had the same mower for years, and like all machines, these get worn down. You may not realize that there are tons of great, frustration-free models out there, from ones that are quieter, cleaner, more effective, and even battery-powered (although if you prefer gas, you can get them without that horrible pull cord). Home improvement blog This Old House lays out a ton of tips for when it's time to buy a new mower and what to look for to make your next few summers a little easier on your sanity.
Important considerations include cost, maintenance, self-propelled vs. push models, rotary vs. reel models, size of your lawn, and more that you probably didn't know about. There's even a whole diagram you can find online dedicated to showing you the ins and outs of a gas-powered lawn mowers, so you know exactly what you're getting. You can always count on your friends here at Newton Outdoor Services to bring the right equipment for the job every time!